How it all began…
Creative Lighting Designs began its history in the spring of 2005. The creator and owner, Brian Horan, had acquired many years of lighting experience while working for others and he wanted to spread his wings and open his own lighting showroom. Brian wanted to bring his passion for lighting as well as his desire for tremendous customer service to the Upper Valley…and so it began with a dream, a kitchen table, a phone and a notepad!
Before long, Brian had found space in a building across the street from Simon Pearce in Quechee, VT and moved in by the fall of 2005. The building had tipsy floors and single pane glass windows but it was all his to do as he pleased and it was the realization of a dream! Brian outfitted the showroom with some of the finest lighting that the area had ever seen and soon the word got out that there was a new must see place on the block.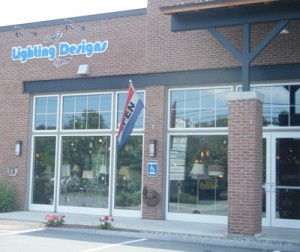 As the business continued to grow it soon became evident that the business had outgrown the current space and so the search for a new space started all over again. Brian looked high and low and checked out many places that just didn't fit the bill for one reason or another. One day as Brian was reading the newspaper he came across an article about a new building in New Hampshire that would soon be under construction and he wasted no time in contacting the owners and within a few weeks they had struck a deal. Now the waiting started as the owners dealt with the town to get their permits. In the meantime, the state notified Brian that he would have to find a new name for his business since he was moving over the border into a new state and so Creative Lighting Designs & Decor was born.
Finally the building was completed and Brian was able to move into the new building in January of 2009 just as the world was tipped upside down by the failing economy. What a time to quadruple the size of your company! Rather than sitting around moaning about the economy, Brian was spurred to action to build his business in hard times by offering well-made lighting at fair prices coupled with outstanding customer service. He also sympathized with local builders who were hit hard by the economy and he allowed them to set up terms with him to help them out in tough times. He also offered free delivery of their lighting orders to the jobsite, a tradition that still carries on today.
Since 2009 the business has continued to grow and Brian has been joined by his wife Lois; an interior designer, and his son Riley who manages the warehouse and handles the advertising. This is truly a family owned and managed business! Creative Lighting Designs & Decor continues to strive to offer unique lighting to the Upper Valley.
We look forward to seeing you!